TODAY'S SPECIAL: 1 Kings 18:1-15
TO CHEW ON: "After a long time, in the third year, the word of the Lord came to Elijah: 'Go and present yourself to Ahab, and I will send rain on the land.' So Elijah went to present himself to Ahab." 1 Kings 18:1,2
Obadiah had a tough job and an evil boss. His job was to be in charge of the palace in Samaria, where Ahab and Jezebel ruled. What made this especially hard was the fact that Obadiah loved and obeyed God. His boss, Ahab, didn't.
Because Obadiah loved God, he did a dangerous thing. When Queen Jezebel was killing all the prophets of God, he sneaked one hundred of them away and hid them so they were safe.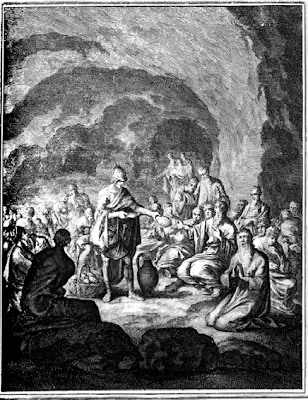 The last while had been hard for King Ahab. Three years passed from when Elijah came to him and said there would be no rain. By now the land was completely scorched, the grass yellow, the plants brown and shriveled. This day Ahab sent Obadiah out to look for any patches of grass left where animals could graze.