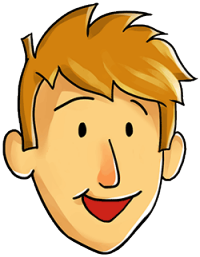 This map shows the great city of Jerusalem where Jesus visited the temple as a boy.

Many things happened in the city of Jerusalem throughout the Bible. Jerusalem was captured by Nebuchadnezzar in the Old Testament, David established Jerusalem as his capital, Solomon built the temple, and Jesus visited the city many times throughout his life.

Now you know where the city of Jerusalem is, where Jesus visited the temple as a young boy and where many other events took place.
Luke 2:46-47 - Now so it was after three days they found Him in the temple, sitting in the midst of the teachers, both listening to them and asking them questions. And all who heard Him were astonished at His understanding and answers.
Geography and ancient cities are important to study as we learn from the Bible, let's pray:
Dear Jesus, thank you for the Bible and for giving us the ability to learn about history. Help us to trust and obey you more and more each day. And help us to remember the things we learn from your Word. In Jesus name... Amen!
---
Kids' Bible Maps
Bible History Online
The Geography of the Bible

© Bible History Online (https://bible-history.com)
Made by Network Local