TODAY'S SPECIAL: Luke 5:27-31
TO CHEW ON: "Jesus answered them, 'It is not the healthy who need a doctor, but the sick. I have not come to call the righteous, but sinners to repentance.'" Luke 5:31,32
One day Jesus saw a tax collector named Levi (also called Matthew) sitting at his tax booth. "Follow me," Jesus said to him. So Levi left his tax booth and went with Jesus.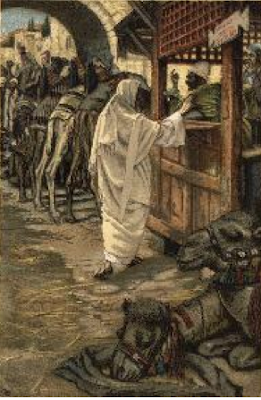 Levi liked Jesus so much he wanted others to meet this new friend. He prepared a banquet and invited all his tax collector friends and Jesus.
Not everybody would have been comfortable at Levi's dinner. Most people hated tax collectors. One reason was they collected taxes for the Roman rulers. The Jews hated the Romans ruling over them.
Even worse, tax collectors usually asked for more than the Romans charged. Then they kept the extra to get rich themselves. People called them thieves and thought of them as sinners.
When the Pharisees and religious teachers saw Jesus at Levi's party, they criticized Him. If He was such a wise teacher, how could He not know these men were sinners?