TODAY'S SPECIAL: 2 Peter 3:3-13
TO CHEW ON: "But do not forget this one thing, dear friends: With the Lord a day is like a thousand years, and a thousand years are like a day." 2 Peter 3:8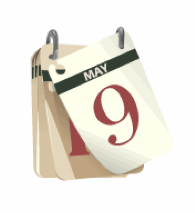 How long is it from one Christmas to the next? From this summer holiday to next summer holiday? From your 10th birthday to your 11th? You know it's only a year, yet it seems like a long time.
So when we read in the Bible that a thousand years is like one day to God, we realize that He's in a different time zone than we are altogether. The idea of a 1000-year day makes the year which feels long to us only a few minutes to God!
The people in Bible times were a lot like we are. Forty years after Jesus had gone back to heaven and still hadn't returned, people said, "Where is this 'coming' He promised?"
Now it's 2000 years later and though Jesus has still not returned, we know that He will keep his promise. After all, in the way God looks at time, it hasn't been that long at all – only two days and a few minutes!
He could return any time. Are you looking for His coming? Are you ready?