TODAY'S SPECIAL: Esther 6:1-14
TO CHEW ON: "That night the king could not sleep; so he ordered the book of the chronicles, the record of his reign, to be brought in and read to him." Esther 6:1
King Xerxes was tired of tossing and turning and trying to fall asleep. "Bring the record books and read to me," he commanded.
A servant began reading to him and soon came to the part that told about Mordecai telling about the plot to kill him.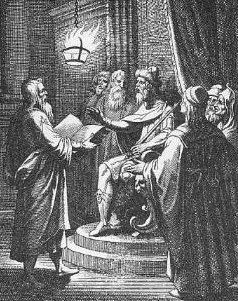 "Has anything been done to honor him for that?" Xerxes asked.
"No, nothing," the servant replied.
Just then there was a sound in the courtyard. It was Haman. "Call him in," the king commanded.
Haman was excited. He had just finished building a 75-foot gallows in his yard and was on his way to get permission from Xerxes to hang Mordecai on it. But before he had a chance to say anything, the king asked, "What should I do for the person I'd like to honor?"
Who would the king want to honor more than me, Haman wondered. And so he told Xerxes the best thing he could imagine. "That person should wear a royal robe," he said. "He will be put on the king's horse which will be decorated with the king's crest. Then the most noble prince will lead this horse and rider through the streets shouting, 'This is what is done for the man the king wants to honor.'"
"Excellent!" Xerxes responded. "Go at once and do this for Mordecai the Jew."