TODAY'S SPECIAL: Esther 2:8-11
TO CHEW ON: "Esther had not revealed her nationality and family background, because Mordecai had forbidden her to do so." Esther 2:10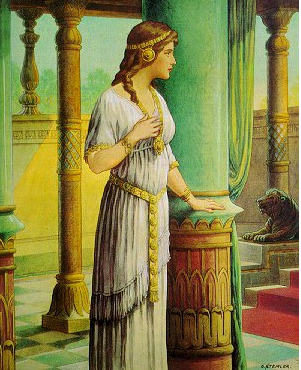 Why was that man looking at her, Esther wondered as she hurried home from the market. A few days later pounding at the door interrupted their meal. A servant of King Xerxes was there. "She has been chosen for the king," he said to her cousin Mordecai.
Esther was a beautiful young Jewish girl whose grandparents had been taken to Babylon by Nebuchadnezzar. Because her parents had died when she was little, she had been raised by her kind cousin Mordecai.
Nebuchadnezzar was now dead and the Persian king Xerxes ruled from his palace in Susa. He had recently done away with his first wife Vashti. Now he was looking for a beautiful replacement to be his new queen.