TODAY'S SPECIAL: Ezekiel 1:22-28
TO CHEW ON: " I saw that from what appeared to be his waist up he looked like glowing metal, as if full of fire, and that from there down he looked like fire; and brilliant light surrounded him. Like the appearance of a rainbow in the clouds on a rainy day, so was the radiance around him. This was the appearance of the likeness of the glory of the Lord." Ezekiel 1:27,28
Have you ever seen something so amazing you had trouble describing it? That was probably what Ezekiel felt like when he saw a vision of God.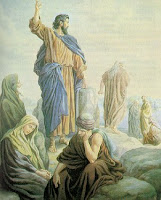 Like Daniel, Ezekiel was an exile in Babylon. One day, when he was beside the Kebar River in Babylon, he saw a strange sight in the sky. At first he thought the cloud with flashes of lightning coming from it meant a storm was on the way. But as it got closer, he saw creatures. They looked like people but had many faces and wings. Then he saw sparkling wheels that moved.
Finally he heard a voice. Looking up he saw a throne. On it was a man. But what a man! He was glowing and fiery. Around him was brilliant light in the colors of the rainbow. Ezekiel knew that this was God and he fell on his face. Then God told him he was to be a prophet to the people in exile.