TODAY'S SPECIAL: 2 Chronicles 7:11-22
TO CHEW ON: "If my people, who are called by my name, will humble themselves and pray and seek my face and turn from their wicked ways, then will I hear from heaven and will forgive their sin and heal their land." 2 Chronicles 7:14
After Solomon had finished the temple, he built a luxurious palace for himself. One night when both those projects were done, God appeared to him again.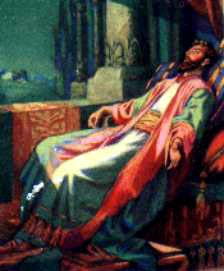 "I heard your prayer and chose your temple," He said. Then God gave Solomon some advice. "Keep my laws like David your father did. Worship only me. If you do this, kings will always come from your family.
"But if you turn away from me and start worshiping idols, bad things will happen."
1. Pick out the three bad things God named in 2 Chronicles 7:20:
A. I will send Israel back to Egypt to be slaves.
B. I will uproot Israel from my land.
C. I will reject this temple.
D. I will burn your palace.
E. I will make this temple an object of ridicule.