TODAY'S SPECIAL: Exodus 17:8-15
TO CHEW ON: "So Joshua fought the Amalekites as Moses had ordered, and Moses, Aaron and Hur went to the top of the hill. As long as Moses held up his hands, the Israelites were winning, but whenever he lowered his hands, the Amalekites were winning." Exodus 17:10,11
As the dust clouds on the horizon got bigger, word spread through the camp: "Someone is coming!" Soon the Israelites could make out galloping camels and on their backs, desert nomads. It was the Amalekites. Did they come in peace or war? Before the men could get organized, the raiders reached the camp and attacked.
The Bible doesn't tell us if the Amalekites came to kill people or to steal the stuff. But we do know that soon after this attack, Moses told Joshua to pick some men and go after those quarrelsome Amalekites.
While the men fought, Moses stood on a hill above the battle, watching and raising his hands as a prayer for God's help. Soon he noticed an interesting thing. As long as his arms were up, the Israelites were winning. But as soon as his arms got tired and he put them down, the Amalekites were winning.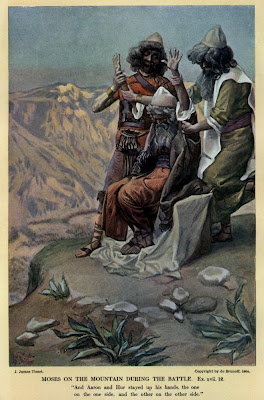 1. How did Moses solve the problem of keeping his arms up? (Ex. 17:12)
2. Who finally won the battle? (Exodus 17:13)
3. What two things did the Israelites need to win this battle?
PRAYER: Dear God, thank You for helping us in our battles. Amen