TODAY'S SPECIAL: 1 Kings 11:26-40
TO CHEW ON: "Then he said to Jeroboam, 'Take ten pieces for yourself, for this is what the Lord, the God if Israel, says: "See I am going to tear the kingdom out of Solomon's hands and give you ten tribes." ' " 1 Kings 11:31
Solomon ruled for many years. Though God had told him that the kingdom would be taken away from his family because they worshiped idols, everything went on as usual. Perhaps Solomon thought God had forgotten what He had said and wouldn't do it after all.
After Solomon built the temple and his palace, he built many other things. One of his best workmen was Jeroboam. When Solomon saw how well Jeroboam did his job, he made him a boss over many people.
One day when Jeroboam was on his way home, he met Ahijah the prophet. When Ahijah saw Jeroboam he did a strange thing. He took off his new cloak and tore it into twelve pieces. "Take ten of these pieces for yourself," he said to Jeroboam. "God told me to tell you, 'I am going to tear the kingdom out of Solomon's hand and give you ten tribes. I'm doing this because Solomon and his family worship idols. Only make sure that when you get to be king, you worship Me.'"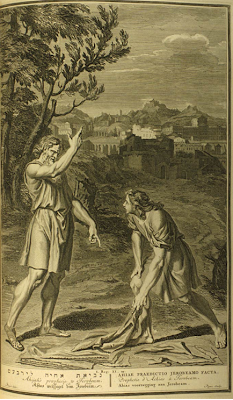 Soon word got back to Solomon that Ahijah had told Jeroboam he would be the next king. Solomon wondered, was God's prediction about to happen? He would make sure it didn't.
"Kill Jeroboam!" he commanded his soldiers. But before the soldiers found him, Jeroboam ran away to hide in Egypt.