TODAY'S SPECIAL: Joshua 3:1-17
TO CHEW ON: "Now the Jordan is at flood stage all during harvest. Yet as soon as the priests who carried the ark reached the Jordan and their feet touched the water's edge, the water from upstream stopped flowing. It piled up in a heap .... So the people crossed over opposite Jericho." Joshua 3:15,16
Excitement filled the air. Today was the day! After living in the desert and in tents for forty years, walking miles in the heat, sleeping in the cold, eating only manna for as long as they could remember, the Israelites would enter Canaan, their new home.
People made manna sandwiches and filled up water skins. They packed their clothes and tools, rolled up their tents and got in line. The priests who carried the ark led the way.
But there was one HUGE – problem. In order to enter Canaan, they had to cross the Jordan River which was wide and fast-flowing. How would they do it?
"Tell the priests to keep walking toward the river," God told Joshua.
When the priests were nearly at the water's edge, God gave the next instruction. "Tell the priests to step in the river and stand there."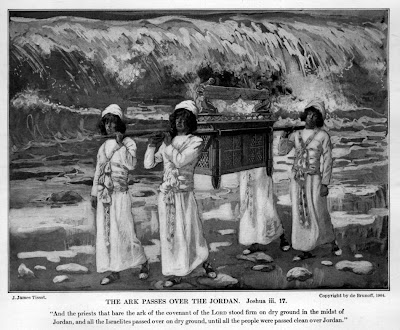 So even though the river was wide and swift, and there was no bridge, boat or raft in sight, the priests carrying the ark did as Joshua said. And an incredible thing happened. As soon as the priests stepped into the water, it stopped flowing! By the time the first people got to where the priests were, there was a path. Everyone walked through the river on dry ground.