TODAY'S SPECIAL: Luke 1:1-25
TO CHEW ON: "Then an angel of the Lord appeared to him ... When Zechariah saw him, he was startled and was gripped with fear." Luke 1:11, 12
What do you want the very most in the world - a pet, a skateboard, a brother or sister, a friend?
Zechariah and Elizabeth wanted a baby - a son. But they were old and no son had been born to them. They had given up hope. But God had other ideas.
God was planning to answer their prayer.
1. What surprise did He send to Zechariah in the temple? (Luke 1:11) _________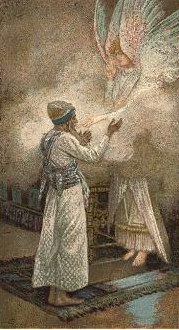 2. What did the angel tell Zechariah? (Luke 1:13) ____________
3. Zechariah found out some surprising things about the baby which would be born. Which statements are NOT true? (Luke 1:14-17)
a. They were to name him John
b. He was to drink only wine and fermented drink.
c. He would be sickly.
d. He would be filled with the Holy Spirit from birth.
f. He would preach but people wouldn't listen.
g. He would prepare people for the Lord.