TODAY'S SPECIAL: Joshua 6:1-5 & 20
TO CHEW ON: "Then the Lord said to Joshua, 'See, I have delivered Jericho into your hands, along with its king and its fighting men.' " Joshua 6:2
The first city the Israelites faced after they crossed the Jordan River was Jericho. It had walls, an army and a king. The Israelites were not trained soldiers. They had no armor to protect them. Their weapons were simple. How could they ever defeat Jericho and make this city their own?
God gave Joshua a plan or strategy. His instructions are below, but they are all mixed up. Put them in the right order: (see Joshua 6:3-5)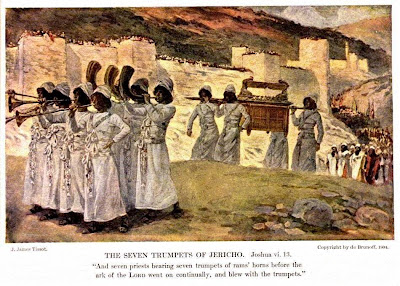 1. The priests should blow a loud blast on the ram's horn and trumpet.
2. The people should march around the city once per day for six days.
3. The people should shout with a loud shout.
4. On the seventh day the people should march around the city seven times.