TODAY'S SPECIAL: Ruth 3:1-18
TO CHEW ON: "'I will do whatever you say,' Ruth answered." Ruth 3:5
Boaz's kindness to Ruth got Naomi thinking. Maybe Boaz would be willing to do even more for them. Naomi remembered that Boaz was a relative. He had the right to buy back the land she and her husband had sold when they left Bethlehem years earlier. But if he did that, he would also have to marry Ruth. Would Boaz want to do that? She would find out.
"Take a bath and put on your best clothes," Naomi said to Ruth one night. "Then go to the threshing floor. When Boaz goes to sleep, lie near him and uncover his feet. When he wakes up, he'll tell you what to do."
Did Ruth understand that by doing this she was actually asking Boaz to marry her? Didn't she know that the man usually asks the woman to marry him? What if he didn't want to marry her? Whether Ruth understood exactly what she was doing, or thought about how things could turn out – or not, she did exactly as Naomi told her.
1. What happened when Boaz woke up? (Ruth 3:8-11) _________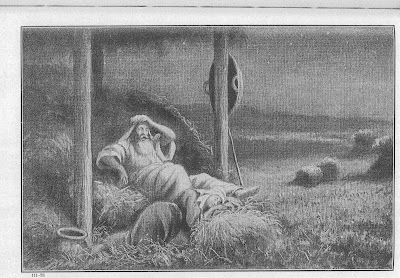 2. What could come in the way of Boaz marrying Ruth? (Ruth 3:12,13) ______________
The next morning while it was still dark, Boaz sent Ruth home with a shawl full of grain.