TODAY'S SPECIAL: 2 Chronicles 23:11-17
TO CHEW ON: "Jehoiada and his sons brought out the king's son and put the crown on him; they presented him with a copy of the covenant and proclaimed him king. They anointed him and shouted, 'Long live the king!' " 2 Chronicles 23:11
Who is your favorite storybook wicked stepmother or evil queen? Did you know the Bible has an evil queen story?
Athaliah was the wife of King Jehoram. After Jehoram died, his son Ahaziah reigned, but for only one year. When the young king was murdered, evil Athaliah went to work. In a few brutal hours she killed all the king's relatives. Then she crowned herself queen.
But someone escaped. Priest Jehoiada and his wife rescued Ahaziah's baby son Joash and hid him in the temple for six years.
When Prince Joash was seven years old, Jehoiada met with the army commanders. He told them to bring all the priests and Levites to Jerusalem. On a special day the priests, Levites and many people gathered outside the temple. Then Jehoiada and his sons brought out the seven-year-old prince. They put a crown on his head and everyone shouted "Long live the king!"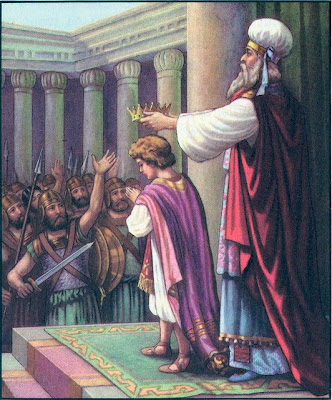 Queen Athaliah heard the noise. She went to the temple to find out what was happening. When she saw little Joash standing there with a crown on his head she shouted, "Treason! Treason!