TODAY'S SPECIAL: Isaiah 53:2-8
TO CHEW ON: "We all, like sheep, have gone astray,
each of us has turned to our own way;
and the Lord has laid on him
the iniquity of us all." Isaiah 53:6
It was the most important day of the year, the Day of Atonement. Everyone came to the holy gathering bathed and in clean clothes. Men, women, girls and boys had watched the High Priest make the offerings. Now it was time for the last event.
A hush came over the crowd as one of the priests led a goat to the High Priest. The High Priest laid his hands on the goat's head. Then he confessed the peoples' sins: "We have been selfish. We have been proud. We have not honored our parents. We have been jealous. We have lied. We have stolen..." On and and on he went. As he named the sins, his hands on the goat's head were a picture of laying all those sins on the goat. This goat was called a scapegoat.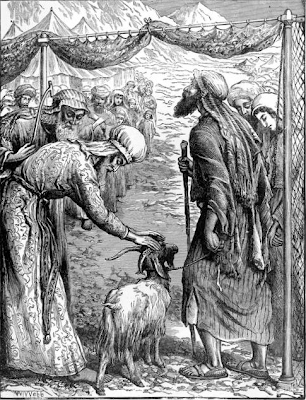 When the priest was finally finished, he gave the goat to a servant. The servant took it to the desert and there released it to die. After the goat was gone, there was a party. Everyone felt happy. Their sins had been paid for for another year.