TODAY'S SPECIAL: 1 Samuel 28:3-20
TO CHEW ON: "He inquired of the Lord, but the Lord did not answer him . . . . Saul then said to his attendants, 'Find me a woman who is a medium, so I may go and inquire of her.'" 1 Samuel 28:6,7
The Philistines were threatening again and Saul was terrified. He wanted to talk to God and find out what to do. But Samuel had died, Saul had killed the priests, and no prophet came with any message. God was silent.
In desperation Saul asked his servants to find a medium. A medium was a person who could contact the spirits of dead people and get messages from them. But this power came from Satan and not God. God had commanded Saul to rid the land of all mediums and spiritists.
Still Saul's men managed to find a medium. Saul disguised himself and went to her house. He persuaded her to try to bring up the spirit of Samuel so Saul could talk to him.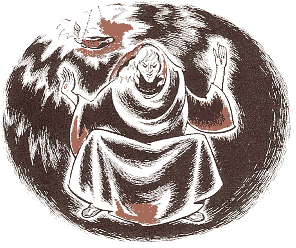 Soon the woman saw something coming out of the ground. And then Samuel's voice filled the room, "Why have you disturbed me?