TODAY'S SPECIAL: 1 John 5:1-5
TO CHEW ON: "In fact, this is love for God: to keep his commands. And his commands are not burdensome, for everyone born of God overcomes the world." 1 John 5:3,4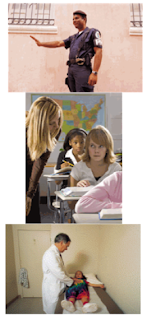 Which of these people would you obey?

policeman    teacher       

doctor       parent        God
Did you choose them all? Name one reason to obey:

a policeman:
a teacher:
a doctor:
a parent:
God:
We have different reasons for obeying.
We may obey the policeman because we know if we don't, he can fine, arrest or put us in jail. We obey out of fear.