TODAY'S SPECIAL: Acts 13:1-5
TO CHEW ON: "While they were worshiping the Lord and fasting, the Holy Spirit said, 'Set apart for me Barnabas and Saul for the work to which I have called them.'" Acts 13:2.
While Herod was persecuting the believers in Jerusalem, Barnabas and Saul were teaching in Antioch. It was here that those who believed in Jesus were first called Christians.
One day during a prayer meeting in Antioch, God the Holy Spirit told the Antioch Christians to set apart Barnabas and Saul for a special job. They were to go on a mission trip. They would travel to places where no one knew about Jesus and tell about Him.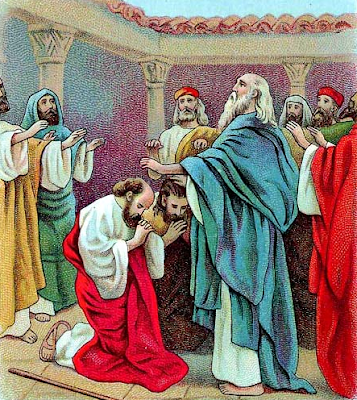 Have you ever been on a mission trip? If you have, you'll know that preparing for such a trip is lots of work. You have to raise money for the plane or bus fare and for expenses along the way. If you're going out of your country you need to get travel papers (like passports, visas and travel insurance). You may need shots to protect you against foreign diseases. You need foreign money. You need to prepare for what you're going to do when you get there - practice your songs and stories, collect supplies for crafts or equipment for sports. And of course, you have to pack your clothes.
Before Saul and Barnabas left on the first missions trip, we don't read of them doing any of these things - though I'm sure they did some of them.