TODAY'S SPECIAL: Acts 3:1-10
TO CHEW ON: "When he saw Peter and John about to enter, he asked them for money." Acts 3:3
The man who sat at the temple entrance to beg had always been crippled. As a boy he had never climbed trees, played tag or walked to a friend's home to play. By now he was used to not being able to walk. He didn't ask for much any more -- just a few coins to buy food and pay rent.
His life was hard and disappointing. He had few nice surprises. I'm sure he didn't expect much to change. Probably after he asked Peter for money and heard his answer: "Silver and gold I do not have..." he was already feeling disappointed.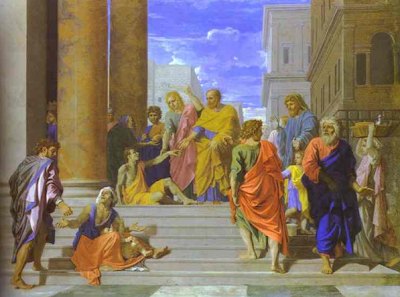 But in the instant that Peter took the man's hand and lifted him to his feet, God's power came into his body. His feet and ankles became strong. He could walk for the first time -- and leap and skip and jump! God gave him, not what he asked for but something far, far better.