TODAY'S SPECIAL: Numbers 20:1-13
TO CHEW ON: "But the Lord said to Moses and Aaron, 'Because you did not trust in me enough to honor me as holy in the sight of the Israelites, you will not bring this community into the land I give them.' " Numbers 20:12
Now the Israelites kept traveling from place to place. While in the desert of Zin they ran out of water. As usual the people came to Moses to complain. "Why did you bring us here," they whined. "There is no grain. There are no figs, grapes, and pomegranates. Now we have no water."
When Moses and Aaron asked God what to do, God said to Moses, "Take your staff, gather the people and speak to that rock."
So Moses did exactly as God had said – almost. He took his staff, gathered the people at the rock but then, instead of speaking to the rock, he hit it with his staff.
Water gushed out and the people stopped complaining and began drinking and filling up water jugs.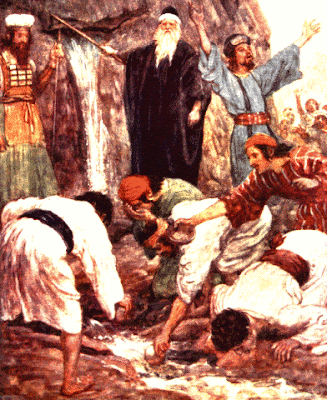 God had answered Moses' prayer. But He was not pleased with Moses' disobedience. Even though he was the leader God had chosen, and God had often talked to him like a friend, still God didn't play favorites or make an exception for him. Instead He said, "Because of what you have done, you will not lead these people into the land I'm giving them."
What a disappointment for Moses. After all this time, he would not be able to enter Canaan and live in the land God had promised.