TODAY'S SPECIAL: Matthew 2:1-15
TO CHEW ON: "'Where is the one who has been born King of the Jews? We saw his star when it rose and have come to worship him.'" Matthew 2:2
Every night the wise men studied the stars. They wrote down when they rose and set. They gazed at their colors and brightness. They drew them and looked for shapes formed by their positions in the sky. Most of all they tried to figure out what the stars meant.
One day a new bright star came out. Such a star could mean only one thing: a new king had been born.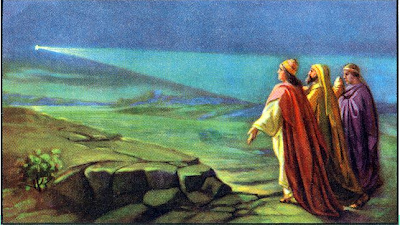 The star seemed to be moving, so the wise men followed it. For weeks and months they rode, probably on camels, and always at night so they could see the star's light. It led them west toward Judea. The star must be telling of a new Jewish king.