TODAY'S SPECIAL: Lamentations 1:1-12
TO CHEW ON: "Is it nothing to you, all you who pass by? Look around and see. Is any suffering like my suffering that was inflicted on me, that the Lord brought on me in the day of his fierce anger?" Lamentations 1:12
What is the saddest thing that has ever happened to you? How did you handle your sad feelings - by crying, sleeping, staying busy, playing sports, talking to others, writing?
Lamentations is a Bible book that someone (most likely Jeremiah) wrote about a very sad time – the fall of Jerusalem.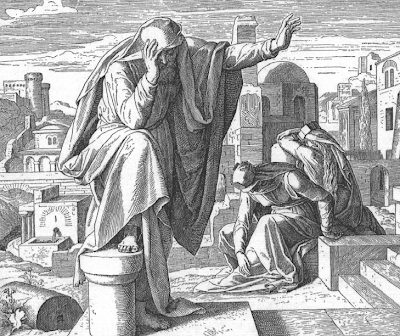 It is poetry and full of word pictures. Jerusalem is compared to a widow. She was once married but now she is a slave dressed in clothes that are dirty with the sins she has done. Jerusalem's former rulers are like deer who are starving and so weak they don't have the strength to run away from the hunter. The roads leading to Jerusalem weep and its gates are empty.
Though Jeremiah escaped going to Babylon, this poem shows that he felt as sad as anyone. He loved his country. He loved Jerusalem. He hated to see it destroyed and its people taken away. Writing Lamentations probably helped him work through his sad feelings.