TODAY'S SPECIAL: Acts 16:23-34
TO CHEW ON: "About midnight Paul and Silas were praying and singing hymns to God, and the other prisoners were listening to them." Acts 16:25
What things would fill you with joy?
1. Getting a new pet.
2. Winning a contest.
3. Being teased about being a Christian.
4. Finishing a hard job.
5. Being arrested for helping someone.
My guess is you didn't choose 3. and 5. But Paul and Silas were joyful even after helping someone and being put in jail for it.
After the Philippi officials beat them, Paul and Silas were locked in a jail cell for helping the slave girl. But they didn't get angry, complain, whine or grumble. Instead they prayed and sang hymns.
What happened next gave them even more reason for joy. An earthquake shook the jail. Their chains came loose. The doors flew open.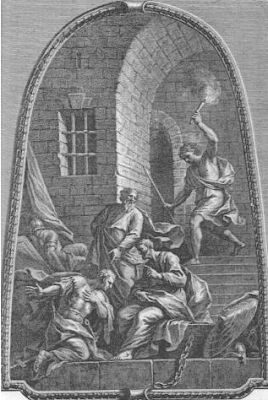 The jailer, afraid that everyone would escape, was ready to harm himself.