TODAY'S SPECIAL: 2 Chronicles 20:1-19
TO CHEW ON: "Alarmed, Jehoshaphat resolved to inquire of the Lord, and he proclaimed a fast for all Judah. The people of Judah came together to seek help from the Lord; indeed, they came from every town in Judah to seek him." 2 Chronicles 20:3,4
What is the first thing do when:
- the school bully and his friends are after you?
- your Mom loses her job?
- someone steals your bike?
King Jehoshaphat's big problem was a huge army coming to fight him. When he heard this, he was worried. But he didn't do things like make his army bigger, call for help from another king or panic. Instead he asked everyone to join him in fasting and praying to God, till he got God's instructions of what to do next.
Many families came to Jerusalem from all over Judah to pray. They met outside the temple. Grandmas and grandpas, moms and dads, girls and boys stood there while Jehoshaphat prayed aloud.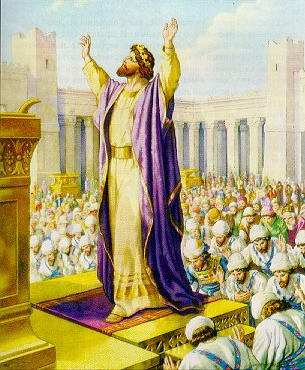 No sooner had Jehoshaphat ended his prayer by telling God how helpless he felt than God's Spirit gave Jahaziel, one of the Levites, a message. What three things did God say to Jehoshaphat through Jahaziel? (2 Chronicles 20:15-17)