TODAY'S SPECIAL: 1 Samuel 26:1-12
TO CHEW ON: "But David said to Abishai, 'Don't destroy him! Who can lay a hand on the Lord's anointed and be guiltless?'" 1 Samuel 26:9
Messengers came running to Saul. "We've seen David," they said. "We can tell you where he is!" So Saul took three thousand soldiers and went to the place the messengers had said.
David had his own spies. They knew exactly when Saul arrived and where his army was camped. One day David went to the hill overlooking Saul's camp. As he peered down, he saw Saul asleep in the middle of all the soldiers. Even his bodyguard, Abner, was asleep.
After dark, David and his friend Abishai crept down the hill and into the camp. They tiptoed right past all the sleeping soldier to the place where Saul lay.
"Here's your chance," whispered Abishai. "God is giving Saul into your hands. Let me kill him for you."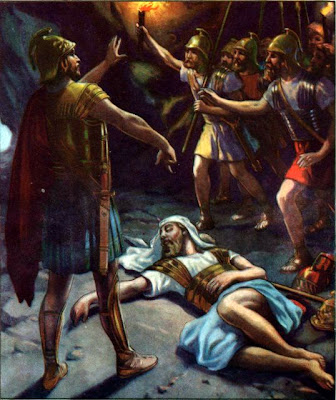 "No!" David said. "He's the king that God chose. It's up to God whether he lives or dies. I won't lay a hand on him." But David took Saul's spear and the water jug that was close to his head. Then they left the camp as quietly as they had come.
When they were at the top of the hill David shouted, "Abner!"