TODAY'S SPECIAL: Exodus 32:1-6
TO CHEW ON: "He took what they handed him and made it into an idol cast in the shape of a calf, fashioning it with a tool. Then they said, "These are your gods, Israel, who brought you up out of Egypt.' " Exodus 32:4
Moses was on Mount Sinai for a long time. When he didn't come back, and didn't come back, the Israelites camping at the bottom of the mountain wondered what was taking so long. Maybe God had destroyed Moses in the fire that rested on the top of the mountain. Maybe a wild animal had killed him. Who could help them if Moses never came back? They remembered Egypt. There the people had prayed to statues or idols.
The people went to Aaron. "Make us a god idol!" they demanded.
"Give me your jewelry," he said. Then Aaron melted the gold he collected and cast it into the shape of a calf.
"This is our god," the people shouted to each other. "This is the god who brought us out of Egypt." They offered sacrifices to the idol and then they began to party.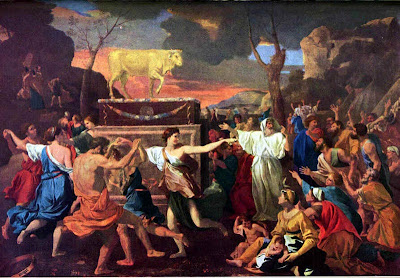 Which statement, below, tells why this happened?
- The people were impatient.
- It's easier to believe in a God you can see than one who is invisible.
- The people were really trusting in Moses, not God. When Moses didn't come back, they thought they were on their own.