TODAY'S SPECIAL: Acts 5:1-10
TO CHEW ON: "With his wife's full knowledge, he kept back part of the money for himself, but brought the rest and laid it at the apostles' feet." Acts 5:2
Some early Christians sold their property and gave the money from those sales to help others. Ananias and Sapphira decided to do this too. But instead of bringing the whole amount, they brought just a part and kept back some for themselves.
There was nothing wrong with this. But then Ananias did a sneaky thing. He gave the money to the leaders as if it were the entire amount. He tried to leave the impression that he was giving everything, even though he wasn't. Later his wife Sapphira lied in the same way.
But God saw their deception. He told Peter, and Peter exposed their lie. That day Ananias fell down dead when Peter confronted him with what he had done.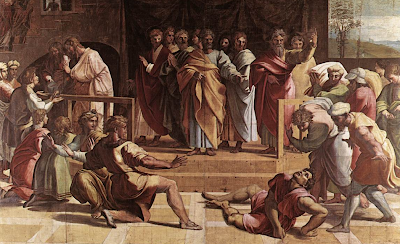 Later the same thing happened to Sapphira. It was God's judgment on them for trying to deceive.