TODAY'S SPECIAL: Exodus 12:29-36
TO CHEW ON: "During the night Pharaoh summoned Moses and Aaron and said, 'Up! Leave my people, you and the Israelites! Go, worship the Lord as you have requested.' " Exodus 12:31
Imagine that first Passover night. Your family did exactly what Moses said. Your dad killed the lamb and painted its blood on the doorframe. Your Mom roasted the lamb's meat. Then your family ate it with herbs and flat bread. For this meal you were dressed and ready to leave at a moment's notice. But you weren't allowed outside because God had said to stay in until morning.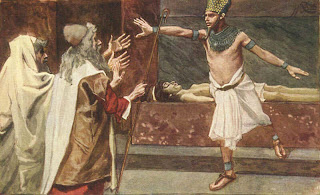 Just after midnight the wailing from the Egyptians began. It woke you as it got louder, spreading from house to house. Soon there was crying everywhere – from the poorest servant's shack to Pharaoh's palace. For in every Egyptian house, including Pharaoh's palace, the firstborn son had died.
Pharaoh sent for Moses. "Take your flocks and your families," he shouted. "Take everything and get out!"
As the sun rose on a new day, your family packed. You packed your clothes, your pets, your toys, your dishes, your beds. You gathered all your animals. Then you and your family joined the noisy, happy parade of Israelites following Moses out of Egypt.