TODAY'S SPECIAL: Revelation 6:1-8
TO CHEW ON: "I watched as the Lamb opened the first of the seven seals. Then I heard one of the four living creatures say, in a voice like thunder, 'Come!'" Revelation 6:1
If you get a letter in the mail, the untorn envelope and the stuck-tight flap tell you no one has opened the letter.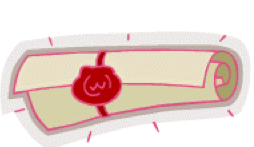 In Bible times, scroll letters were sealed with clay or wax. This clay or wax had the imprint of the sender's seal - an impression of his ring or special stamp. This seal told the person who got the letter it was from the person who had stamped it, and it had not been opened. What was inside a letter stayed a mystery until the seal was broken and the letter was opened and read.
As John watched scenes of heaven, he saw the Lamb (Jesus) opening seven seals. Although these seals weren't on actual letters, they were messages from God, telling John (and us) things that would happen in the future. Read about the first seals John saw. Then fill in the thing that each brought (pick the answer from the words below).