TODAY'S SPECIAL: Nehemiah 6:1-16
TO CHEW ON: "So the wall was completed on the twenty-fifth of Elul, in fifty-two days. When all our enemies heard about this, all the surrounding nations were afraid and lost their self-confidence, because they realized that this work had been done with the help of our God." Nehemiah 6:15,16
The wall was nearly done. There were no more broken gaps and only the gates were missing. But instead of the opposition getting less, it got worse. One day Nehemiah got another message from Sanballat and Geshem. "Come to a meeting in a nearby village," it said.
Nehemiah smelled trouble. He was sure these men were planning to harm him. He sent back word, "I'm busy on a big project."\
They didn't give up easily. Three more times they called him to a meeting. Finally on the fifth try, the messenger showed Nehemiah another letter from Sanballat. It said, "We know that you and the Jews are plotting a revolution. You're planning to become king. If you don't want this reported back to Artaxerxes, you'd better meet with us."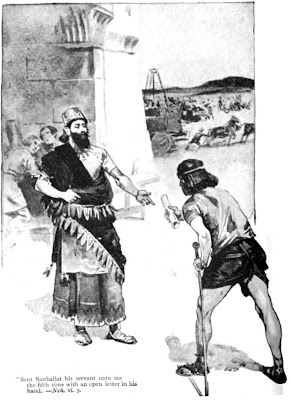 Still Nehemiah refused to be distracted. "These are all lies," he wrote back. "You're making this up out of your head."
But now even some people inside the city tried to get him away from the job. "Rebuilding the wall isn't what God wants," said some of the prophets.