TODAY'S SPECIAL: Esther 7:1-10
TO CHEW ON: "King Xerxes asked Queen Esther, 'Who is he? Where is he—the man who has dared to do such a thing?' Esther said, 'An adversary and enem! This vile Haman!' Then Haman was terrified before the king and queen." Esther 7:5,6
The food was delicious. The wine put everyone in a good mood. Now Esther waited for just the right moment to tell the king what she wanted.
Then he said, "Queen Esther, what is your petition? Whatever you want, I'll give it to you."
Esther took a deep breath and began, "O king, if I have found favor with you, please spare my life. For I and my people are about to be slaughtered and wiped out."
Xerxes' eyes got wide with surprise. "Who would do such a thing?" he demanded.
"The enemy is this vile Haman!" Esther said.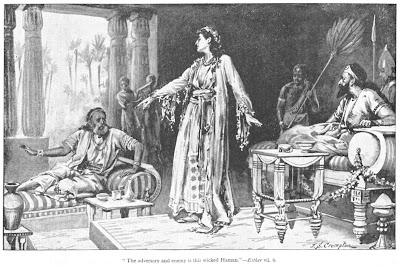 The king looked in horror at Haman. Then he left the room, too angry to speak.
Haman, who minutes before had been talking and laughing was now shaking and pale. He staggered over to where Esther lay on her couch, fell on his knees and begged for his life. That's how the king saw him when he came back into the room a few minutes later.