TODAY'S SPECIAL: Daniel 6:12-23
TO CHEW ON: " 'My God sent his angel, and he shut the mouths of the lions. They have not hurt me, because I was found innocent in his sight. Nor have I ever done any wrong before you, Your Majesty.' " Daniel 6:22
"Bring them in!" commanded king Darius to his servant.
The Babylon rulers smirked as they entered and bowed before the king. "We've found someone who broke your new law," they said. "We caught Daniel praying to his God."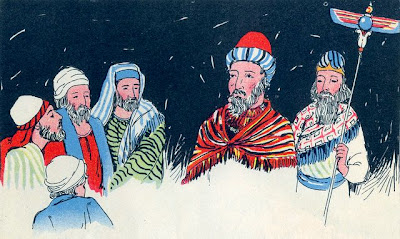 Darius was shocked. Not Daniel! He was his favorite servant. And then he understood. The other rulers were jealous of Daniel. They wanted him gone. They knew that he prayed to his God three times a day. So that was why they had come to the king and suggested he pass the new law. It said that for thirty days it was illegal to pray to anyone but the king. Punishment for disobeying was death by hungry lions.
All day King Darius tried to get Daniel freed. But he couldn't. "May the God whom you serve rescue you," he said to Daniel as servants tossed him into the lions' den.