TODAY'S SPECIAL: Matthew 28:1-10
TO CHEW ON: "He is not here; he has risen just as he said ..." Matthew 28:6
Something mysterious happens when people die. The invisible but living part of a person – the moving, breathing, thinking, feeling, loving part – leaves the body. The body – the physical shell which did the breathing, talking, laughing and hugging – is still there. But it is empty - the real person is gone. We call them dead.
Physical death is final. Even the most clever doctor can't capture the living part of a person and stuff it back into a dead body to make the person come alive again.\
It was now three days after Jesus had died and been buried. Some of His women friends went to the tomb on the morning after the Sabbath.
When they got there, everything was different than they expected. The large stone that had stood in front of the cave tomb wasn't there.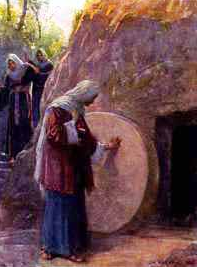 A shining angel greeted them. The angel said, "I know you're looking for Jesus. He's not here, He's risen. Come and see where He was lying.