TODAY'S SPECIAL:2 Kings 4:27-37
TO CHEW ON: "He went in, shut the door on the two of them and prayed to the Lord." 2 Kings 4:33
Elisha and his servant Gehazi did a lot of traveling. One day they went to Shunem. A rich woman there invited them for a meal in her house. Then, knowing Elisha often traveled to Shunem, she and her husband fixed up a room for Elisha and his servant. Now every time they came to town, they had a place to stay.
One day Elisha asked the woman, "After all you've done for us, what can we do for you?"
"I have everything I need," she said.
"She doesn't have any children," Gehazi said to Elisha after she had left.
"Right," said Elisha. "Call her back."
When the woman came, Elisha said to her, "By this time next year, God will give you a son."
Sure enough, a year later, she had a baby boy. She had never been happier! But one day, when the little boy was with his dad, he got sick. "My head! My head!" he cried. Servants carried him home. But a little while later he died.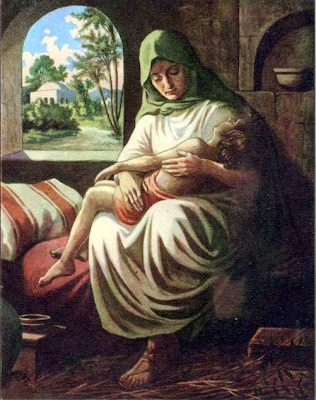 Immediately his mother saddled a donkey and went to find Elisha. If anyone would know what to do, he would. When she found him, she persuaded him to go back with her.