TODAY'S SPECIAL: 2 Samuel 12:1-10
TO CHEW ON: "Why did you despise the word of the Lord by doing what is evil in His sight?" 2 Samuel 12:9
David was now a successful and loved king. One day when he was relaxing on the palace roof, he caught sight of a beautiful woman taking a bath. He couldn't get her out of his mind. So he told his servant to bring her to the palace.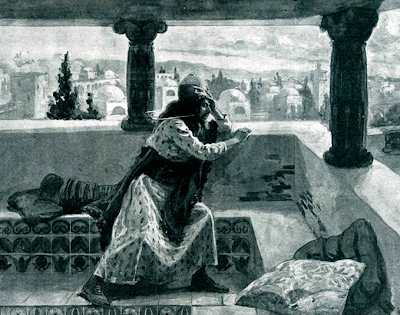 She came and David found out her name was Bathsheba. She was married to Uriah, one of David's soldiers. But that didn't stop David from taking her to his room and making love to her. Then he sent her back home. A short time later, Bathsheba sent word to David that she was pregnant.
Now this was a problem, because her husband wasn't home. He was on the battlefield. People would ask, "Who is the father of this baby?" Maybe David would be found out. So David sent for Uriah to come back from the war. David thought Uriah would welcome the chance to be with his wife. Then he would think the baby was his.
But when Uriah came home, he refused to go home to Bathsheba. "Why should I enjoy my wife when my fellow soldiers are dying?" he asked. Then he spent the night with David's servants.