TODAY'S SPECIAL: Psalm 104: 24-32
TO CHEW ON: "How many are your works, Lord! In wisdom you made them all; the earth is full of your creatures." Psalm 104:24
In the sea a dolphin sights a squid in the water above.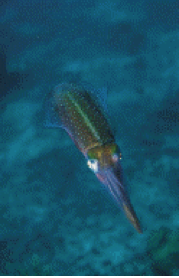 It races toward the yummy meal. But the squid sees the enemy coming. Immediately its body changes. It begins to glow and its shape disappears. To the dolphin looking up, all it now sees is the light filtering through the water from the surface.
Then the squid squirts ink-like dark fluid into the water. The dolphin thinks it has found the squid again. It darts toward the blob of ink while the squid speeds away.