TODAY'S SPECIAL: Amos 8:1-12
TO CHEW ON: "Hear this, you who trample the needy and do away with the poor of the land .... I will never forget anything they have done." Amos 8:4,7
In Israel King Jehu was followed by his son and grandson. They were all evil. Now a new king, Jeroboam II, was ruling Israel. Outwardly everything was going well. Crops had been good. Many people were getting rich. They loved their beautiful homes and their lovely things. Some people were poor. But they didn't matter, did they?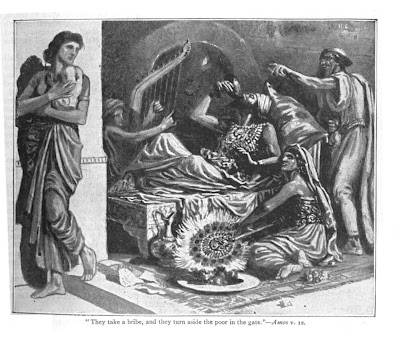 With that attitude, the rich were secretly cheating the poor. When they sold grain to them, they didn't put the full amount in the bags, but raised the price. Sometimes they put the sweepings or the garbage from the bottom of the wheat bin into the bag and charged for that too.
God saw this unfairness. He called a shepherd named Amos. He sent Amos to be a prophet to Israel.