TODAY'S SPECIAL: Exodus 5:1-23
TO CHEW ON: "Moses returned to the Lord and said, 'Why, Lord, have you brought trouble on this people? Is this why you sent me? Ever since I went to Pharaoh to speak in your name, he has brought trouble on this people, and you have not rescued your people at all.'" Genesis 5:22,23
Moses hurried back to Egypt after God talked to him from the burning bush. Sure enough, on his way he met Aaron, just as God had said. When they got back to Egypt, they called a meeting of the Israelite leaders. Moses told them what God wanted him to do and showed them the signs God had given him. The leaders were overjoyed and worshiped God. Now they would no longer be slaves.
NOT!
For when Moses and Aaron talked to Pharaoh, he laughed at them. "Who is the Lord that I should obey him and let Israel go?" he scoffed.
The Israelites were working for Pharaoh as slaves. They worked on his building projects. One of the things they had to do was make bricks for the Egyptian palaces, temples and pyramids.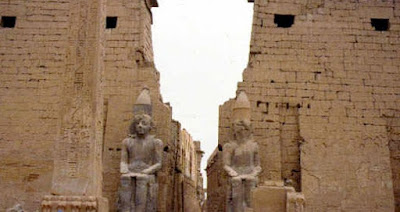 Now Pharaoh made a new rule. Instead of giving the workers straw to make bricks, the Israelite slaves would have to find their own straw and still make as many bricks as before.
"No fair!" said their Israelite bosses. But when the workers could no longer make their daily quota of bricks, the Egyptian slave masters beat the bosses.