TODAY'S SPECIAL: Jeremiah 36:1-26
TO CHEW ON: "The king and all his attendants who heard all these words showed no fear, nor did they tear their clothes." Jeremiah 36:24
"I'm sure the people will change their ways when they hear all this," Baruch said, as he put the final touches on the scroll.
God had told Jeremiah many months before to try another way to get the people to listen. "You write down all the things I've told you," God told him. "Then read them to the people. When they hear about the judgments that are coming, surely they'll change their ways."
Jeremiah had hired Baruch as his secretary. He had spoken the things God had said to him, while Baruch wrote them on a scroll. It was slow work and took a long time. But finally they were done.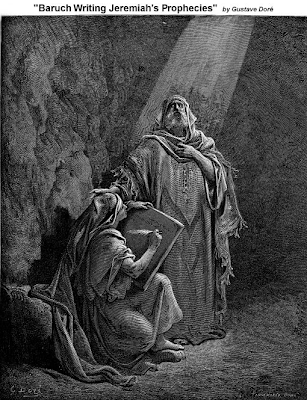 On a day when many people were in Jerusalem, Baruch read Jeremiah's words at the crowded temple courtyard. Micaiah heard them. He hurried to a room where the king's officials were gathered. "You've got to hear this!" he told them.
They invited Baruch to read Jeremiah's scroll. After he finished they said, "This is serious. We'd better make sure the king hears this!"
On a cold winter day King Jehoiakim called Baruch to come. But when he heard the words written in the scroll, he didn't seem the least bit worried. Instead, after Baruch had read a bit, Jehoiakim took the scroll from him. With a knife he cut off the part he had just heard and dropped it in the fire.