TODAY'S SPECIAL: 3 John 1-14
TO CHEW ON: "Dear friend, I pray that you may enjoy good health and that all may go well with you, even as your soul is getting along well." 3 John 2
When you hear the word "blessing" what do you think of? Saying a prayer over food before you eat? The pastor praying a benediction at the end of a church service?
You're right - a blessing is these things, and more too. Any time we ask for God's favor or declare it over someone, we speak a blessing. Look up the verses, below, to see what the Bible says about blessing and being blessed, then fill in the missing words:
1. Paul usually began his letters by speaking a blessing of God's _______ and _______ to his readers (Ephesians 1:2).
2. In today's verse, John speaks a blessing of ________ for his friend's body and soul. (3 John 2).
3. Jesus took ________ in his arms, put his hands on them and blessed them (Mark 10:16).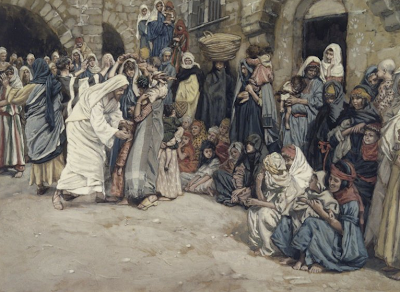 4. Jesus blessed or ________ ________ for food before eating (Matthew 14:19).
5. We will inherit a blessing by not repaying ______ with _____ or ______ with _______, but with a blessing (1 Peter 3:9).