TODAY'S SPECIAL: Numbers 14:1-12, 20-23
TO CHEW ON: "Not one of them will ever see the land I promised on oath to their ancestors. No one who has treated me with contempt will ever see it." Numbers 14:23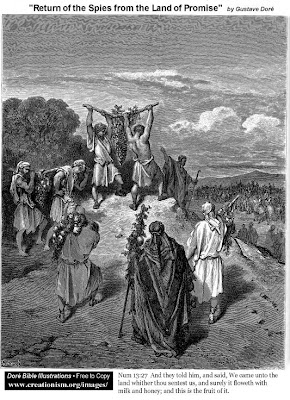 When the twelve spies came back from Canaan, only two thought they could conquer the people and move in. The ten others saw only walled cities and fierce, tall people. They were afraid and refused to trust God and Moses.
When the people in the camp heard their report, they started to grumble and cried, "We don't want to die in a war. We want to go back to Egypt. We want a new leader."
Joshua and Caleb tried to change the peoples' minds. "The land is wonderful," they said. "God isn't afraid of those people. If He is with us, those people should be afraid."
But the people wouldn't change their minds. Instead they ganged up on Moses, Aaron, Caleb and Joshua. "Let's kill them!" they shouted, and began picking up stones.