TODAY'S SPECIAL: Luke 2:1-7
TO CHEW ON: "While they were there, the time came for the baby to be born." Luke 2:6
After the angel's visit, Mary got pregnant. God, the Holy Spirit, was the baby's father.
Joseph, the man she was planning to marry, thought she had cheated on him. He was all set to break their engagement. But an angel came to him in a dream. He told Joseph to take Mary as his wife and to be an earthly father to the baby she would have.
Now it was months later. The baby was due to be born any day. That's when Caesar Augustus passed a law about registering for a census. So Joseph and Mary had to take the long trip from Nazareth to Bethlehem where Joseph needed to register. Talk about bad timing!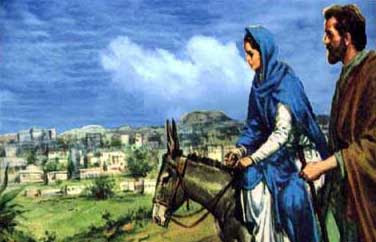 They didn't have planes, cars or buses for the trip. Instead they had to walk the 46 to 50 kilometers (or 28 to 31 miles) from Nazareth to Bethlehem. Maybe Mary rode on a donkey. Not only was the trip uncomfortable, but when they got to Bethlehem, the inns were full.