TODAY'S SPECIAL: I Samuel 1:20-29
TO CHEW ON: "I prayed for this child and the Lord has granted me what I asked of him. So now I give him to the Lord. For his whole life he will be given over to the Lord." 1 Samuel 1:27,28
Have you ever made a promise that later you wished you didn't have to keep? Perhaps you promised your brother that if he'd deliver your papers, you'd do his chores. Or you promised your parents if they gave you what you wanted, you'd never beg for things again. Or maybe you made a promise to God that if He answered your prayer, you'd do something special for Him.
Hannah had made a big promise to God. She told Him if He gave her a baby, she would give that baby back to God for his whole life.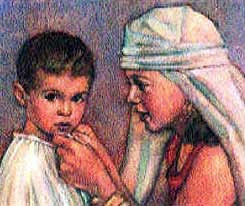 God answered Hannah's prayer with baby Samuel. How thrilled she was! She loved dressing him, feeding him and playing with him. But every time she looked at him, she also remembered her promise. She knew that if she kept it, she wouldn't be keeping little Samuel. I wonder if she ever wished she could take back that promise.
The year Samuel was weaned – he was about three – Hannah and Samuel went with the family to worship in Shiloh. Hannah took little Samuel with them to the tabernacle. "Do you remember me?" she asked Eli. "I'm the one who was praying. God answered my prayer and gave me Samuel. I promised God I would give the child to him. So here he is." Then she left little Samuel with Eli.