TODAY'S SPECIAL: Exodus 40: 1-16, 34, 35
TO CHEW ON: "Then the cloud covered the Tent of Meeting and the glory of the Lord filled the tabernacle. Moses could not enter the Tent of Meeting because the cloud had settled on it, and the glory of the Lord filled the tabernacle." Exodus 40:34,35
After Moses had cleaned up the golden calf, God rewrote the smashed tablets of stone. Then Moses asked the people to collect things for building the tabernacle. People brought gold jewelry, beautiful cloth, colorful thread, dyed animal hides, gem stones, spices, incense and oil. Soon there was enough.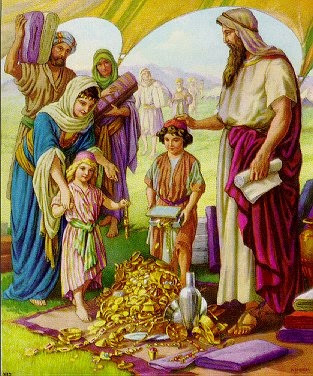 Next God told Moses which talented artists and builders to put in charge of building the tabernacle. They organized and taught volunteers who made all the parts of the tabernacle and its furniture and tools.
Finally the tent church and all its furniture was built. On the first day of the first month God told Moses to put up the tabernacle. He also told him exactly where to put each piece of furniture along with each utensil and tool.
God told Moses to dress Aaron and his sons in the special priest clothes. As they stood before him, Moses poured oil on their heads (anointed them) as a way of setting them apart to be priests who would always serve God.