TODAY'S SPECIAL: I Kings 5:1-7
TO CHEW ON: "I intend, therefore, to build a temple for the Name of the Lord my God as the Lord told my father, David, when he said, 'Your son whom I will put on the throne in your place will build the temple for my name.'" 1 Kings 5:5
When Solomon had been king for four years, he decided it was time to keep the promise he'd made to his dad and build a house for God.
He contacted King Hiram of Tyre to get permission to cut down huge cedar and pine trees. He called up thousands of men to work. Some felled trees.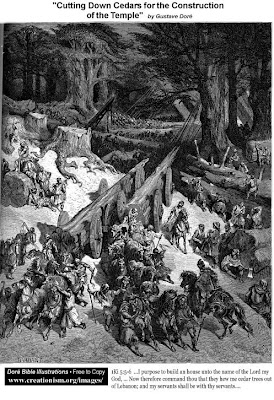 Others worked in quarries cutting boulders into square building stones. Many moved the wood and stone blocks to Jerusalem. Still others worked in Jerusalem, putting the temple together.
After the gigantic stones were in place, workmen covered the walls with wood. They made floors, so that the temple was three stories high. They made the sanctuary – the room where the ark would sit – extra special, covering all the walls and ceiling with gold. Workmen carved beautiful decorations of fruits and flowers for the temple and made fifteen-foot high angel statues to decorate the sanctuary.