TODAY'S SPECIAL: Numbers 21:4-9
TO CHEW ON: "But the people grew impatient on the way; they spoke against God and against Moses, and said, 'Why have you brought us up out of Egypt to die in the wilderness? There is no bread! There is no water! And we detest this miserable food!' " Numbers 21:4,5
Have you ever grumbled about any of these things: food, clothes, the weather, too much to do, not enough to do, the things you have, the things you don't have?
I have to admit, I have – and I'd be surprised if you haven't as well.
Grumbling and complaining are pretty common ways people react to things they don't like. And that's what the Israelites did as they continued their travels. They complained about God, Moses, the food, no water. Instead of trusting in what God had said about their future, they doubted and wailed, "We're going to die in this desert."
So God sent poisonous snakes among them. These snakes bit them and many of the people died – just for complaining! The only way they could be saved after they had been bitten was to look at the bronze snake Moses had mounted on a pole in the middle of the camp.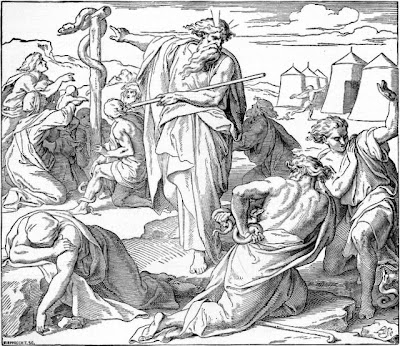 Wasn't death an awfully harsh punishment for something as simple and common as grumbling? But the Israelites' grumbling showed they had a bigger problem than simply being ungrateful for their leader and not liking what they had to eat and drink. It showed they weren't trusting God's character. They didn't believe that He was in everything that happened to them. They didn't trust that He really loved them and would work everything that happened to them into something good. They didn't believe His promises.
Isn't our grumbling the same? Even though God has given us some amazing promises in the Bible, when we grumble we are saying, "I don't believe God is good. I don't believe He will keep His promises to me."
Let's change our ways. When we are tempted to grumble, let's remember God's promises and choose to trust Him and believe that He will make something good out of even hungry, thirsty, anxious, boring or uncomfortable times.