TODAY'S SPECIAL: Joshua 23:1-16
TO CHEW ON: "But if you turn away and ally yourselves with the survivors of these nations that remain among you and if you intermarry with them and associate with them, then you may be sure that the Lord your God will no longer drive out these nations before you. Instead, they will become snares and traps for you, whips on your backs and thorns in your eyes, until you perish from this good land, which the Lord your God has given you." Joshua 23:12,13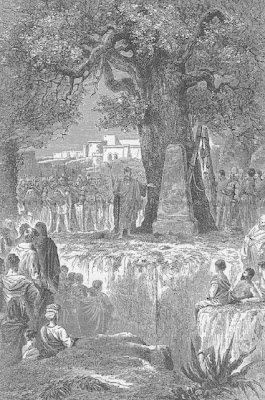 Years passed. Joshua led the people in many battles. They won most of them and were now living in their new homes in Canaan. When Joshua was an old man he gathered the leaders to hear his final words. Here are some of the things he told them. Cross out the one thing he did not say:
1. Be very strong; be careful to obey all that is written in the book of the Law of Moses.
2. Associate with the survivors of these nations; pray to their gods and swear by them.
3. One person can beat a thousand because God fights for you.
4. If you are good friends with and marry the survivors of the nations you beat, they will snare, trap, whip and defeat you.