TODAY'S SPECIAL: Exodus 18:13-27
TO CHEW ON: "Moses listened to his father-in-law and did everything he said." Exodus 18:24
One day Moses got some important visitors. His father-in-law Jethro brought Moses' wife and two sons to be with him. They had a wonderful family reunion and Moses told them the incredible story of how God brought them out of Egypt
The next day, Moses took Jethro to work with him. Continue telling the story by choosing the best ending:
1. Jethro saw that all day: (Exodus 18:13):
a] Moses gathered manna.
b] Moses made plans for traveling.
c] Moses judged the people.
2. He said to Moses: (Exodus 18:17):
a] "What you are doing is not good."
b] "The way you do this is brilliant."
c] "Why are you so lazy?"
3. Jethro had a better way for Moses to do all that judging. He told Moses, he should: (Exodus 18:20-22):
a] let people decide things for themselves.
b] train others to judge the easy cases and Moses would judge only the hard ones.
c] scold the people for being so quarrelsome.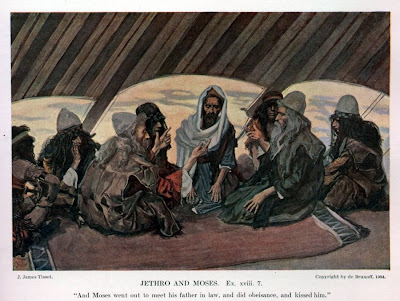 4. When Moses heard Jethro's advice he: (Exodus 18:24)
a] listened to it and did what Jethro said.
b] argued with Jethro about why he really needed to judge everyone.
c] was upset because Jethro had criticized him.