TODAY'S SPECIAL: 1 Kings 19:19-21
TO CHEW ON: "Elisha then left his oxen and ran after Elijah." 1 Kings 19:20
One of the jobs God gave Elijah was to find and call the person who would be the next prophet. We don't know how Elijah knew which person to choose. God probably told him. Neither do we know much about the person he picked – Elisha – except that he was a farmer.
Elijah found Elisha in a field. He was plowing with oxen.
Elijah called him by going up to him and throwing his prophet cloak over Elisha's shoulders. Our Bible doesn't tell us if Elijah explained to Elisha what he meant by this. But Elisha knew exactly what Elijah was asking.
1. What did Elisha do? ( 1 Kings 19:20) ________
2. Did Elijah force Elisha to come with him? ________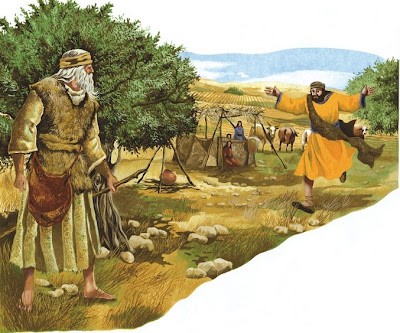 For some reason Elisha was ready to follow Elijah. Maybe in the days just before Elijah came, he had been feeling restless about being a farmer. Maybe he had been asking God to show him what he should do instead. Maybe he had heard of Elijah, and wanted to get to know him. Whatever the reason, Elisha was ready for Elijah's invitation and was quick to respond.